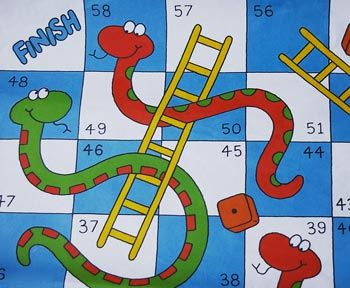 As is often the case in life and in Moscow, life can be be like a board game. With a role of the dice, move up two spaces, move down two spaces. It has been like that here with many situations and at times, you can cry and laugh at the craziness here.
Recently, I had one such example with my car. You may like to read "How to - fix your car in Moscow" after you heave read this dear reader. By coincidence, rather than by design, the last few posts on this fantastic blog, have all been car related. I am not Jeremy Clarkson and this is my own written copyright content.
I recently, had a problem with my car radiator, so I went to the service centre garage. The help desk guy, that we will call Igor, (not his real name) told me that the part would take "a month or two to arrive in Moscow" and that I should "not drive the car". I stood there watching his lips move but not really believing what I was hearing. Igor speaks semi good English and on the many times that I have met him at the garage, he has always been helpful. He is the only service desk guy, with a brain and when I go there, I hunt him down like a wolf after a rabbit even if he is sitting on the toilet or having a coffee break. I was standing in the garage on a rainy September day, with my son aged two, wandering how I would get back to the city with or without my car? Should I order the part and leave the car at the garage or go home in the car, at the risk it may blow up? Should I return to the garage later, when the part arrived and be without a car for one or two months in Moscow? Difficult questions. I am like anyone, I cannot survive without a car or a mobile phone. I am a modern slave to life's lazy habits.
Once Igor's lips had stopped moving and the blood in my face had returned to a normal colour, he told me that I could get the part from a market in Moscow but "it's not original". I could feel my nervous twitch returning and my left eye began to twitch violently, as my son screamed behind me in his stroller. I asked Igor to explain more about this "Not original" radiator. He told me he would call the shop, order the part and they will "sms you when it's ready". I asked my self, why the fuck doesn't the garage have spare parts and why don't they have a network, where they can phone other dealers and get spare parts from them? I have realized over the years here and in life, that trying to understand why things are the way they are only makes you feel either, depressed, confused and moronic. So I try not to think too much. I thanked Igor, went back to my car, strapped my son in his char seat and made my way back, through the heavy Moscow traffic to our Moscow HQ, home.
I drove with one eye on the car in front and one eye on my radiator, temperature gauge, that danced between hot and meltdown. I made my way up Kutuzovsky prospekt praying not to break down. An English man, who does not speak Russian, with a baby, stuck on a six lane road in Moscow. A nightmare situation to be in. Luckily for me, we made it home and I parked the car, changed my pants and de-stressed. The next day, on Saturday, we got an SMS on my wife's phone, since that's the contact number the garage have. As is usually the case with mobile phones, the battery ran out when we needed the phone but we had my phone with Yandex maps, that does not speak to you as Google maps does, I hate Yandex and it is as much use to me as a Russian politician, at a anti corruption parliamentary debate. We left the kids with a babysitter and hit the road, to go to the car market for the "not original" radiator. We had not driven for even two kilometers, when the car warned me to 'STOP' and that the temperature was gauge went critical. Nervous, that the reactor may blow and kill us both, we limped back to Moscow HQ and parked, happy to alive and home again after our very short journey.
We called a tow truck and arranged for it to come later in the day and we took the metro to the car market. I love Russian cooking, Russian art and the Russian countryside but have never been a big fan of Moscow, as a mega city and place to live. However, occasionally, out of the mountain of manure, a gem shines brightly in the Moscow sky, making this city bearable. Moscow has many specialist markets and they some of gems that make this city interesting. There are markets for electronics, music and DVDs, car parts and maybe dildos?
The car market we went to, was huge and you could buy anything there. We found the shop, next to the toilet and excitedly went inside. At the desk, one man was serving another man. The man waiting, the "customer" (I use this word nervously in Russia), had a long list of parts and every few moments, the man that worked in the car part shop for "international parts" would disappear out he back. He would return every few minutes to his computer and with the speed of a snail, on sleeping tablets, he would type key by key, in a part number that he read off the box and give the man a small box. The customer, would then tick off the parts, on his long shopping list from hell. The man serving, would then disappear again, to look for another part.
We waited and watched this horrible, slow process, for about twenty minutes. I felt more nervous than when my fist child was born and my eye began to twitch again. I could not control my bottom from speaking to me. Nerves are very cruel. When the man had finished serving the customer, our moment had arrived and we were next in line. The man serving, asked my wife for our "log in". My heart stopped. My wife explained, she did not have her mobile phone it was at home, the man said "then you can't have the part". I retained the vomit, that was rising up inside me and with a finger, I pushed my poor, reluctant, tired wife towards the shop manager. After some begging from her and offers from me to sell him my bottom, he agreed to let us take the part without a "log in". There is a god dear readers.
Before leaving the shop and like a boy at Christmas, I tore open the box to see if the radiator matched the diagram, that Igor had given me at the service garage. It did not totally match but the box said 'made in Denmark universal'. We prayed and went home by metro, carrying the box with the radiator. After thirsty minutes of waiting at home, the tow truck arrived and the car was put on the back. I got in and sat next to the driver. He was a nice guy with no teeth and we could not speak to each other. He smoked one cigarette after another. I opened the window, to break oxygen, as we wound our way through the afternoon traffic. When we arrived at the garage, about forty minutes later, I smelled like mattress from a house fire. I jumped down from the tow truck, with new energy and ran to Igor with my '"not original" radiator. He told me to wait "it will take one hour". I went upstairs to the customer relaxing area. I watched the lonely fish swimming in his tank. I went down to sniff the newness of the cars for sale, I looked at the dumb but attractive reception girl and drew stick men in the kids play area. I waited to see my new baby, fixed and back on the road.
Igor told me job was done and asked me to pay. The original part would have cost 12,000 Rubles the "not original" part cost 2,500 Rubles. I had saved money. The new radiator will last about two years, so will do for now. I tried not to ask myself why a major international car brand, does not keep car parts but decided not to torment my mind or logical reasoning. I drove home, happy thanking the Danish that the car worked and grateful to Igor for helping me.
Russians can be very kind and very bad, just like in any country. Try not to question why things are the way they are here and just relax dear reader, play the board game and play it to win.
© All Rights Reserved.
Related stories: How to - Get your car fixed in Moscow,Best Posts, Donate to English dad in Moscow