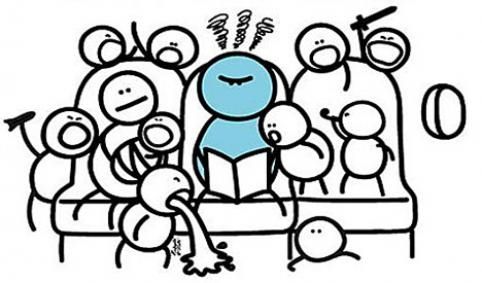 After a great summer break, we return the hire car at the airport and I hunt for a baggage trolly (cart). Traveling with small kids requires enough equipment, to make any mountain explorer proud. As is the usual tradition, my wife buys far too much stuff while on holiday and spends several days worrying about the baggage weight allowance, before we get to the airport. Once at the airport, she sends me to an empty check in desk, that contains a rather bored looking airline worker, to ascertain the weight of of our suitcase. He tells me it's 6 kg over weight. With fear in my bones, I return to my wife and kids to tell her this terrible news and I am ordered to unzip the case so she can repack it again, so she can stuff as many items, from the over weight suitcase into other bags that are allowed on the plane as hand luggage. My M&S XXXXL pants are scattered across the airport floor, along with teddy bears, t-shirts, semi automatic weapons, creams and nappies for all to see, while she repacks. I stand behind a very large pot plant to hide my total embarrassment. My wife asks me to zip up and close the suitcase and tells me to return to the check in desk to see what the new weight is. I go back with the nervous anticipation of an overweight Sumo, to see if the diet has worked. I return to my wife with delight, to inform my wife that the diet was a success and that our suitcase weight is now legal. I dump the weapons in the pot plant.
We go to the Aeroflot check in desk and to my relief, it's not very busy, apart from a few Russians doing what they love doing, only secondly to "remont" (home renovation) suitcase wrapping. A fat man, with a tight t-shirt stretched over a very large belly, holds a case, while his wife frantically wraps up their case in kilometers of clear plastic wrap. We check in the baggage and I wheel away the baggage trolley, with one kid balanced on top of our hand luggage, while my wife pushes the baby in the stroller (pushchair) to the departure gate.
We get to the security check area. This area fills me with almost as much horror, as arriving back in Moscow, but I grit my teeth and put on a brave face. I know the process only too well. I tell my wife she is in charge of the baby and I am in charge of my other kid, however in reality, this rarely works, as I usually end up controlling both kids, at the security check in. I grab several red plastic trays, while holding onto my kids hand. I take off my belt and feel my trousers (pants) slowly falling down, I throw in my belt, my Valium tablets, my keys and my phone into one tray and watch it disappear into the machine. I accidentally, let go of my sons hand and he goes under the luggage belt to look at the X-ray machine. I grab him back while holding onto to my trousers and pass him to my wife to take through. I take the baby out of the stroller, fold it up and put it onto the X-ray luggage belt. I then pass through the metal detector, holding my crying baby. The skill in this process, is to not lose any kids and to get back all your stuff from the plastic trays without crying or going insane. Sweating heavily and hating airports, I put my belt back on, grab my stuff from the tray, grab the kids and we move down to the airport departure gate.
The airport departure screen says "Moscow delayed". My wife is in heaven and surrounded by duty free shops. The shop area is full of people and smells. The air is thick with sweet perfume, body sweat and stale farts. She leaves the kids with me, while she goes off hunting for things to buy that she does not really need. Baby screams and my older kid demands chocolate, I reach for a Valium tablet. I people watch. I can usually spot the Russian girls, by how they are dressed. Often in t-shirts, with glitter or fake diamonds on the t-shirts, baggy trousers or tight jeans, long shiny hair and wearing a hat white from Zara. They are usually beautiful or very beautiful and they know it.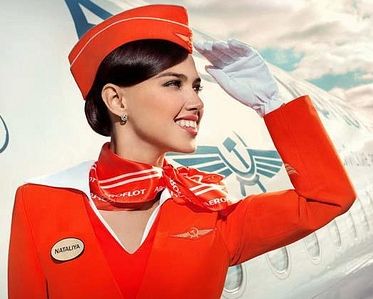 At last, the plane arrives and is ready to be boarded. Most of the passengers are Russian and I notice they usually always rush onto the plane. I wait till the dust has settled and we go to the boarding ticket desk to get on the plane. I fold up the stroller and leave it by the plane door, hoping it will get put on the plane. We get on and find our assigned seats. I like female Aeroflot cabin crew (air hostesses). They wear bright orange uniforms and a Soviet style army hat, at an angle on their head, although it's orange rather than green in colour. They wear what looks like special flight tights, in a dark tan colour and usually have red lipstick. I drift off, into a standard male fantasy that involves me dressed as the captain, and I'm locked inside the flight cockpit, with two semi naked Aeroflot air hostesses and a large bottle of Cointreau liqueur. I am brought back to my cold reality, by a screaming baby. The attractive female cabin crew are usually assigned to Business class and we always pass through it to our economy class seats. In another life perhaps. It would be fun to see the yearly Russian army parade in red square, all wearing orange Aeroflot hats in giant middle finger to Putin. Sorry, I digress dear reader, never get political on a blog in Russia.
Flying with small (dare I say, "normal" children) can be like flying with chimpanzees. They scream, touch and move, unless either occupied or fast asleep. The skill is to have bananas drugged with sleeping syrup, electronic gadgets (a taser gun may help) and if you have a walking toddler, get him to sprint around the airport departure area before the flight, so he gets tired and change his nappy before the flight. I always sit by the window and dose up with three 5mg Valium tablets to chill out. Baby is strapped to me and I stare out the cabin window, in a drugged daze for most of the flight. Drugs are great when you fly and even better when you fly with kids. When you fly with a stressed wife and small kids, you need either drugs or strong alcohol. I'm of course joking about my wife, as without her, none of this would be possible.
Aeroflot food is good. I usually eat two meals but the drugs may help them to taste better? When the plane finally arrives in Moscow, everyone claps their hands in applause, pleased to be alive and all the passengers unbuckle and stampede off the plane, like a herd of elephants, to the passport control. We sit on the plane, until they have all gone, then get off the plane and head for the passport control. Still drugged, I am mellow to this stress and hand my passport over, holding a baby without a care in the world, my trouser flies are undone and I have a wild smile on my face. Mountain man is back.
Back in Moscow, after another holiday back in civilization, I feel my batteries are recharged and I'm ready for the 5th winter here and I'm ready to fight the Russians and the Moscow expatriate community.
I may not update this blog again for a while, as I have a few other commitments outside the world wide web of blogging and I am running out of enthusiasm to do it. Please enjoy reading other stories and posts on this blog and make a payment contribution to my Vodka needs and finical needs if you can and I may be encouraged to update it more often. Thank to everyone who has contributed so far. Yen, Dollars, Rubles and pounds are most welcome. Uncut diamonds, gold nuggets, and nymphomaniac oriental girls, who get excited by eccentric English men are also very welcome. Many thanks dear reader.
Related stories:
Best Posts
© All Rights Reserved.