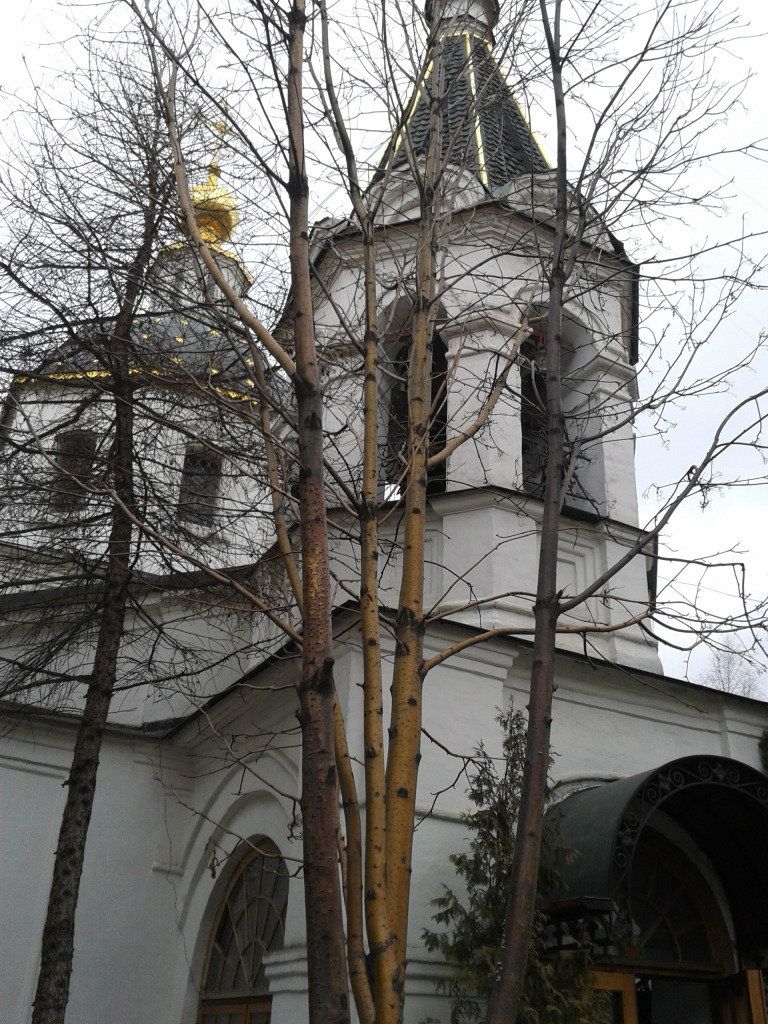 A small Orthodox church in Moscow
Getting your kids baptized is totally down to individual choice, belief and need. I got my baby and toddler baptized today here in Moscow. I did it, as I believe it to be the correct thing to do, I believe it be morally and spiritually correct. I believe in an after life, good, bad and a god. This is my justification, like it or leave it.
Like many people, I don't go to church, except for weddings and funerals and I don't read any bible. Does that make me a hypocrite, a sinner and a fool? Some may say yes. As a family, we are not Orthodox. I am CE (Church of England), my wife is Catholic and now our kids are Orthodox. I thought it would be impossible or hard to get our kids baptized here in Moscow but lady luck was on our side. We have a wonderful, part time nanny, who has a heart as big as Russia who arranged it all for us. She is also now their spiritual godmother. Without her, we could not have done it. We could have gone to a popular expatriate church here in Moscow and had it done there but the but priest scares me and looks like an exorcist, although I am sure he is warm and wonderful guy, if you get to know him. I'm pleased we didn't as frankly, I would have found this church cold and dull. I am sure it would have involved endless sermons and red tape to arrange. If I had been in the United Kingdom and had the opportunity to go to a quaint, old English church in some sleepy English village, I may have gone but I was not. Going native, here in Moscow was one of the best experiences of my life.
We went this weekend to a small Russian Orthodox church. Once inside, we were led into a room off the main church, that contained a font and an alter. It was dimly lit with candles, the alter was a mass of gold, beautiful paintings. The ceiling and walls were painted in beautiful colours, showing various religious scenes from the bible. There was one other set of parents with us. Their baby would not stop screaming and screamed for the entire service. My big kid kept trying to blow out all the candles and almost set fire to the room. The kids and babies had be stripped of their clothes and the priest plunged them under the water in the font to wash away their sins. The water was warm but I told my boy that he was going for a swim, as he loves swimming and it was enough to get him to cooperate. When they had been washed, they were dried with white towels and dressed in traditional, beautiful white handmade linen robes. The priest spoke some English and was a very nice man. After the children had been bathed in the water, they were anointed with special oil. The godmother, mother and father are blessed by the priest. The priest and godmother walk three times around the font, the priest cuts off a lock of hair from the child and the father throws it into the font water. The walk around the font and alter, is to represent the number of days Jesus was in the tomb. I did not fully understand the ceremony but it was fantastic. When we left, we made a donation to the church.
A beautiful example of religious art
We went back to the same church, the next day for further ceremony and the drinking of wine and eating of bread. I did not take any, as I am not Orthodox or a hypocrite. I am also probably not worthy to receive it. The little church was full people. Old women and men, kids, couples and single people. The atmosphere was calm and happy. A very large priest, with a very deep voice, was chanting some hymn or bible passage while the choir backed his vocals. Their singing was beautiful, not deep gospel but rather deep Moscow. For a beautiful example, for when you feel all hope is gone or if you feel stressed, listen to
this
when you have read this and be totally blown away. You feel at peace and pure, when in a Russian church. I can't explain why but its a very nice place to be. There is no animosity, no judgement and no competition, just a bunch of people showing gratitude and asking for help or forgiveness.
I have to say, getting a baby or toddler baptized can stressful. It is stressful when they scream and stressful when a bigger kids run around the chapel and try to grab everything. However, this experience, that only lasted about an hour and half, was a beautiful memory and the crying baby did not ruin the experience, after all, without babies or little kids, there would be no baptism. One of my children was born here in sunny Moscow, and so I have an odd, perverse emotional bond with Moscow. I have never pretended to love or even like Moscow but since one of my children was born here, I am now, in an emotional sense, tied to this city and always will be. I wanted a positive memory of Moscow and now I have a beautiful memory of Moscow, thanks to one kind lady, a priest and a small Russian church.
On a personal note, if you are interested regarding religion, my father died when I was twelve. Up to that point, before his long, drawn out painful death, I was a big believer in god, I was a fan but after his death, I lost all my faith in god and in life. I don't know if I will ever find full religion again or be true believer but as I said before, I believe in an after life, good and bad. I am a sinner and imperfect but try my best to live a good and honest life. I hope my kids will try to do the same. I recommend anyone who believes as I do, in these things, to get their kids baptized. It's a beautiful and worthwhile experience, especially in a Russian church. You don't need to be Russian, Orthodox or strictly religious.

We live in tough times, in a screwed up wicked world, a bit of religion, if used carefully, can do a lot of good. Even if you only dip your toe in the waters of god a few times in your life, try it, feel good and do good. Your choice pilgrim.
© All Rights Reserved.