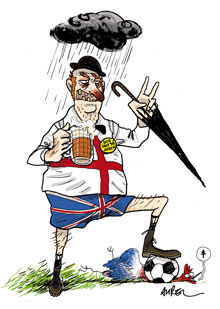 With the United Kingdom always in the press for all the wrong reasons, it is interesting to ask what is it to be British? The UK and other European countries are undergoing massive population explosions caused by immigration numbers. The UK is expected to reach a crisis point very soon.
As an Englishman, I have a love for many things that I consider English. If you are not English, you may have little or no idea what I am talking about. In my opinion, anyone wanting to settle in and became a permanent resident should know what some of the British classics and have a understanding of what makes the British tick. British classics are what makes England, England, like queuing (waiting inline), the rain, Cheddar cheese, Marmite, Marmalade, cricket, complaining and cancelled trains. Some may say these things below are old fashioned, some may disagree and that's fine by me but many will agree that these things are typical of being British and typical of Britain and are part of its "kulture" (culture).
I use the term "British" as an adjective to mean being "British" but the term Brits or Britons is also used by some. English is defined as a nation or ethnic group, so I prefer to use the word British to describe a nation of people. I use the word British, to mean people of the UK and the countries culture. How you define it, is totally down to individual preference and I won't argue the definition. Culture, is used to refer to ways, habits, preferences, oddities, likes and dislikes, as well as art, cuisine, music, folklore, literature, philosophy etc. I don't mention other aspects of culture here as it would take too long to mention.
The days of myths are no more. Things such as it rains all the time, bowler hats, London fog and public schools, where boys are beaten with a cane are now resigned to history and to legend. The UK is now a bureaucratic, hard up, hard hat, health and safety, blame him, no win, no fee, privatized corporation. The UK is largely made up of different, resentful races and religions, and a place where public toilet doors are soon to be marked "transgender". Job titles are mostly gender neutral and human right laws run the asylum. The queen is the ambassador for tourism and Brussels cracks the whip. Believe it or not, despite all this, it still has its charm. Cities have a mixed bag of people such as Asian, Caribbean, African (Nigeria and other regions), Pakistani, Indian, Arab, Slovak, Slovenian, Polish and other European countries. These populations are first, second and third generation immigrants. The countryside areas and rural English towns and villages are still largely made up of indigenous, ancient generations of white "Anglo Saxon" Brits. London has a large population of wealthy Russians. They are attracted to British history and can play real life Monopoly games, buying debt ridden aristocrats homes and turning them into their luxury Dachas. They raise a finger, to their childhood, to their countries past and ultimately to Britain.
Here is a very brief guide to the foreigner and here are some of my impressions and beliefs (warts and all) of what makes the United Kingdom and what is typically British. The points below are not extensive, there are too many to mention here. These things are British and engrained in the countries blood and constitute its structure and environment. At times, its not pretty but where you have ugliness, you also also have beauty. Briton, is your mad crazy aunt, who is three times divorced, lives in an old windmill and drives a second hand Mini Copper. Love or hate her, she is what she is.
British Food Classics
Roast beef and Yorkshire pudding. This is a traditional lunch traditionally served at a weekend for the family. It consists of a quality beef joint, slowly roasted in the oven with potatoes, horseradish sauce and served with Yorkshire pudding, gravy and vegetables. Often, the desert is Trifle or Sticky toffee pudding. Curry has become our national dish, mainly due to and thanks to our vast Pakistani and Indian population that began joining our native population from the late 1970's onwards. Restaurants began to spring up all over the country and it would now be very unusual not find a curry restaurant in the smallest of English villages. The British love curry. Fish and chips is also popular but cannot be considered fine dining. Old traditional English cooking is dying out but has some of the most delicious, meat, fish and desert dishes that you won't find anywhere else in the world. Heard of these? Pork pies, Shepherds pie, Gravy, Fish & Chips, Cream scones, Steak and kidney pie, Egg custard tarts, Game pie, Toad in the hole, Cornish pasties (Cornwall), haggis (Scotland) Steam treacle pudding, Spotted dick.
If you don't know what they are, find out as soon as you should try them, they are truly delicious. Of course, many British foods and dishes came from abroad or were influenced by French cooking etc, however the Brits have made them their own and consider them to be quintessentially British. Try traditional English food when you go to the United Kingdom.
Changing British Family life
Family life consisting of a married mother and father with two or more kids has changed in form over the last twenty years. It was once the norm for children to have a mother and father but now this is not so usual and families can consists of mother only households (single mothers), same sex households and unmarried households. Traditionally, Sundays were family days and all shops were shut but this has changed and now shops are open 24 hours a day seven days a week. All kids once wore school uniforms and the police were generally respected. This has now changed in the 21st century and school uniforms are no longer expected and the police are generally hated by most of the younger population, along with all forms of establishment. Families these days, get takeaways (food eaten at home from a restaurant), watch DVDs, play computer games, watch reality TV shows, talent shows etc. Taking the whole family down to a retail park, eating a KFC and visiting Lidl, Carpet Land or furniture Land, are popular weekend day trip destinations for many British families.
Many families eat toast, cereal, porridge, tea, coffee, a fried breakfast or boiled eggs for breakfast. Tea is still very popular with all generations of Brits. It is taken with milk and one or two sugars at breakfast, in the morning and in the afternoon. Earl Gray is the best tea. Bingo and cutting the grass, are popular along with dog walking, picnics, washing the car and falling asleep in front of the TV at weekends. Pub lunches in villages and small towns, are also popular with some families at weekends. Barbeques, (food cooked on charcoal grill outside) are very popular in the summer months, for many families that have a garden. Lamb and fresh pork and herb sausages are best cooked on a
barbeque, washed down, with beer, wine or ginger ale.
Sunday church attendance and religions such as Christianity and Catholicism have all but died out, although other types of religions are still very popular, such as Judaism and the Muslim religions that attract moderates and fanatics. As Margaret Thatcher once said, "there is no such thing as society, only the individual" and this seems to have made families insular in areas where community no longer exists, except in small rural villages in the UK. Traditional churches are being sold off and converted into luxury homes, theme pubs and flats. Muslim mosques are springing up,
across many suburban areas in the shadow of former Christian churches
, long since demolished to make way for Lidl supermarkets.
Family life as a happy functional unit, has and is slowly dissolving, due to social problems, poor education, high unemployment and societal change. Yob culture is now the norm in England, especially in large cities like London, Manchester and Birmingham. Teenage mothers, still at school, sit in KFC restaurants feeding there small babies chicken wings, while their boyfriends hang about in the street outside, wearing their hoods, swapping splifs and mobile phone snap shots. Life In Britain in the 21st century. These kids grandfathers and great grandfathers, would spin in their graves if they could see how things are now.
British English
Language has changed a lot over the last few decades. These changes have happened due to poor education, influences caused by, immigration and from the popular media, mainly from American movies. The United Kingdom, has many accents such as Essex, London, Birmingham Manchester, Asian, Caribbean, African, Irish, Dorset, Welsh, Scottish etc. The movies have influenced spoken English and many Americanisms have slipped into the English langauge. There are too many to mention here but some are: "when the shit hits the fan", "woz up", "your kidding", "what the fuck" (WTF), "asswipe", "double whammy", "dick" "guys" etc. See here for other slang. Text talk, is a whole new language. This langauge came from mobile phone messaging, network sites and forums and is a short form of English, some say it's lazy English. English is often spoken badly and people who make sentences with words missing, the wrong tenses, missing or no article, missing prepositions etc. One example is "where was you?" (where were you) and "can you borrow me a fiva?" (can you lend me five pounds). For anyone new to the UK, it can take several months or even years, to understand the different forms of English.
Data recently suggested, that one in six youngsters in primary schools - 547,000 - do not have English as their first language. If we are to believe statistics, the future of the UK is not native English.
British people will greet each other or call each other "mate" (meaning friend) when they have only just met and ask "how are you" when meeting or speaking, often, people don't reply "I am fine thanks" but simply repeat back "how are you" without answering the question. In the past, Mr, Mrs, Sir or Miss were used to address others but this habit has been lost in recent years. Fuck, shit and cunt are three of the most popular words and can be used interchangeably in sentences by some people. Try not to get offended, as these words are used with little thought to the context of the meaning and are said for impact.
There is a fairly new trend of people speaking in questions. This is when fact is said like a question. The voice will go up at the end of the sentence on the last word, to make it sound like a question. Example: "She told me breakfast wasn't ready", sounds like: "she told me breakfast wasn't ready?", this sentence is a true fact said by one person to another but the person saying it turns it into a question when it is a fact. Other examples include: "I tried to book a flight but they told me there were no flights?" translated means there are no flights, this is a fact and is usually spoken in one flat tone of voice, a factual voice.
Troubled British Public Transport
British public transport is notoriously expensive can be dirty and unreliable. The London underground is always packed at rush hour and dangerous to travel on a Friday or Saturday night. The underground (metro) is usually reliable apart from bomb scares and signal failures, trains are mostly modern but can be very hot in the summertime.
London underground trains are small, the platforms can get very crowded and become like a pair of breasts in a bra too small, bursting and tight. Try to avoid rush hour times.
There are still red double deck buses and black taxis, (to take a black cab, you will need a full wallet, as they are very expensive). Most traditional red phone boxes, have been removed or replaced with gray ones. London is very busy and best to be avoided during tourist months, although London never sleeps. The UK has a very good network of toll free motorways although this situation may change soon. London is very bad for parking and cars are taken away and impounded, if parked illegally, by licensed, criminal firms. Travel round London, on a red double deck tourist bus with fat, retired Americans. The bus will stop off at all the well known landmarks and drop you off to have lunch at a London eatery for less than a 100 dollars per person at "Ye old English tavern" (as frequented by Henry the 8th!).
British Towns and countryside
Britain has some very beautiful villages and towns the further away from London you travel. I can recommend Devon, Cornwall, Edinburgh, Dorset, Wales, the lake district and the Suffolk coast as places to visit. There are still some traditional pubs but these havens of "Englishness" are sadly closing on a weekly basis across the country. Sitting by a fire, in an old village pub with a pint of warm ale and a packet of crisps is one of life's rare and joyous pleasures. I recommend visiting: Cambridge, Oxford, Bath, Bristol, Windsor, Bristol, Richmond-upon-Thames, Covent Garden in London and Greenwich. London has some beautiful and huge parks. Sit in a park and watch hoodies play football with a cat, while they film you on their mobiles.
London is festering melting pot of people and is overcrowded and expensive. It's fine to visit but I don't recommend living there unless you are on a high income. London is historically and architecturally very interesting and worth seeing, at least once in your life time.
British Culture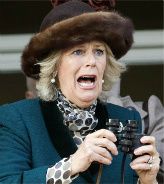 Camila Parker Posh, DT 15/03/2012
It's dangerous to generalize but traditionally, British people are often liberal, left wing, forgiving and tolerant, although the closer you get to large cities the less likely they are to have these qualities. As a nation, the Britsih tend to have a good sense of humor and can laugh at themselves. Politically, things are changing and the UK is seeing a rise in nationalistic, racist, thuggish groups, (EDL, English Defense League, NF, National Front, BNP British National Party) due mainly to unchecked immigration and national political distrust. The country is currently ruled by a wet split, between Conservative and Liberal parties, where decisions are hard to reach and where political positive change, is painfully slow or non existent. The United Kingdom, is split between those that see change and population numbers as positive for the economy and others that see change and immigration as sad and dangerous. The United Kingdom is a diverse population and environmentally interesting, with beautiful beaches, forests and coastlines. Mild winters and hot summers are the norm. Socially and demographically, the UK is changing fast and is almost unrecognizable to how it was in the past. The British, are not particularly patriotic but are becoming increasingly nationalistic and anti EU. The Human Rights Act, has eroded many British laws and the criminal is the victor rather than his victim.
Many people love football and cricket. Football, once a family and skilled game (the sport of kings) has largely become the sport of yobs, fulled by beer and hate. Cricket is an incredibly boring game that can go on for days but attracts a better clientele at live matches than football does (the EDL, has many football thugs as members). There is still a class divide, between lower, middle and upper classes but middle and lower (or "working class") are becoming virtually the same thing. The UK is obsessed with political correctness and health and safety law, so much so, that it is making life increasingly difficult for the population to function without regulation restraints or legal civil court action. Anyone who stands up and says there is an integration problem or a clash of cultures between ethnic groups, is ostracized and called a racist. The term "racist" has become very trendy and it is used almost as much as fascist, anti gay, sexist etc. Some say, the UK is a society based on rights rather than on responsibility.
The UK has many B&B's (bed and breakfast houses) where you can stay. These are cheaper than hotels and can often be charming. The price includes a bed and a breakfast. The rooms can be at an angle, with creaking wooden floors and hot the water can be temperamental when taking a shower. The breakfast consists of a fried English breakfast, usually served cold, by a woman named Margret who a lazy eye and a limp and who insists on talking to you about her ten cats while you eat breakfast. I'm half joking of course but B&B's can be excellent or awful but are the best way to see England if you plan on traveling around the country by car. Russian oligarchs would never stay in such places and prefer to rent out entire designer boutique hotels when they stay in the country with the families and trailing nannies.
Brits love to complain but rarely take direct action to change things, unless they are pushed to do so in extreme situations. Public riots can take place when uneducated, unemployed bored thugs, want a new TV or a new pair of Reeboks. The Brits, have always disliked the French and the Germans and never liked Brussels.
Brits like to queue (wait inline) for things and don't like to be kept waiting. "Please" and "thank you", are generally expected when giving or receiving things but "ta", "thanks", "cheers" are common forms of thank you. Waiting in a queue, is an art form and typically British, the habit is still practiced today in a society where everything else is changing or failing. The Brits usually wait one behind the other, usually in a straight line to be served or to book a ticket. Even wild hoodies (see link below) tend to follow this ancient rule. One never pushes in front of a person in a queue and one waits until it is his or her turn to be served.
The BBC was once respected but has lost this respect in the last few years, due to exaggerated reporting and internal scandals. Brits have become anti establishment and anti Royal family. In the above photo taken from Daily Telegraph, Camila P, is probably saying "oh my god, the waiter has dropped dead, get me a Gin and Tonic Charles". The Royal family now are really only a tourist attraction but help to bring tourists to the country and help the economy just becuase they are royal. Retired, American tourists still flock to London, hoping to meet Charley and to see where Sherlock Holmes once lived (said with irony dear reader).

English politics, has been exposed as fraudulent and that was once seen as the last bastion of honor and respect rooted in deep history and law. Britain is now a very liberal society that is fractured and divided on a number key issues. The British empire, was once internationally powerful and the UK had a strong mining and manufacturing base but this has almost vanished in the last decade or so.
Some say, there are more negatives than positives when talking about how Briton once was and how it is now and if you compare "then" to "now", this certainly seems to be true. Its changed, like everything and has changed negatively and positively. Mass consumerism and I must have now, is the new way of life. The UK feels more European and less stuffy, however its history lives on and with it new problems.
The uneducated British youth culture is often violent and some areas of London are ruled by gangs of black and white yobs. These youth's are known as "hoodies" (tops with hoods that hide the hair and face) and stabbings and killings are an everyday norm in many parts of poor and deprived London areas. Vast, concrete tower blocks, were built in the 50's, 60's and 70's in London and still stand now, were people live cheek to cheek in an uncomfortable marriage of cultures and races. Property and human life of any age,
is meaningless
to these feral gangs and they rule by post code, street and housing estate. They must have today and command respect from others rather than earn it. They have created their own fantasy worlds, influenced by movies and violent games. Many come from broken homes, and from one parent, abusive and alcoholic families. Time in detention centers and prisons, is a way of life for these gangs and is almost coveted as a "brother" honor to spend time in "Her Majesties Prison" service, (HMP) where you earn your bonus respect points.
The British are known internationally as binge drinkers. Binge drinking is a term used to define the drinking of large qualities of alcohol very quickly and getting totally drunk, often with fatal consequences. Not all are Binge drinkers but it is a big problem. Larger and cheap shots are the most popular drink, of many Friday and Saturday night drinkers. I would not recommend being in any street, near pubs or clubs, on a Friday or Saturday night in any large British city.
Intellectual thought, language and accent are very much judged in a negative way by many of the younger uneducated or badly educated generations. The posher (upper or middle class) a person sounds, the more uncool and square they are thought to be. Regional and colloquial accents are now the popular vogue and have slipped into every form of spoken media.
All a bit negative? Maybe, however little Briton, is still worth seeing and has some beautiful places to visit. Like Moscow, some people love London, while others hate it. I personally hate London but love the rest of the UK. I love England for its food, green countryside, beaches, forests and villages. if you look carefully, you can still find its old charm and it's amazing and eccentric personalities that make you laugh and make England a good place to be.
Citizenship survey
A survey of easy questions was posted on here. This survey is now closed. It asked ten questions about typical things associated with Britain. Over one hundred people replied from countries all over the world. It asked such things as, what is Toad in the hole? 88% of respondents got the right answer while 88% knew what a Cornish pasty was. It asked are the British moderate drinkers and it seems their reputation is now international. 94% of people that answered this question, said the British are not moderate drinkers. The question of what is a popular form of insult said by British people to each other, attracted different votes. "Wanker" got 38% , "fuck off" 29% and the others got lower percentage results and I won't mention them here! 73% of voters said that the British postal service was unreliable and expensive. To my surprise, 91% of voters knew what Pork Scratching are which is strange, since you can only usually find them in Britsih pubs. Of course voters could have looked up these answers by searching on Google but this would seem a bit pointless. The questions were fairly easy but perhaps people do genuinely know a lot more about Britain than we would believe.
The survey did get some wrong answers. 18% of voters suggested Guy Fawkes was a Britsih actor. 18% said an Englishman's home is his flat rather than his castle. 6% of voters said the British are moderate drinkers, which makes you ask if they have ever visited the UK? 3% of voters said Pork Scratchings are a sun rash caused by eating bacon and 6% of voters said Toad in the hole was a meal made from wild toads, served with cabbage. Thanks to all who participated. These results won't change the world but were entertaining to read.