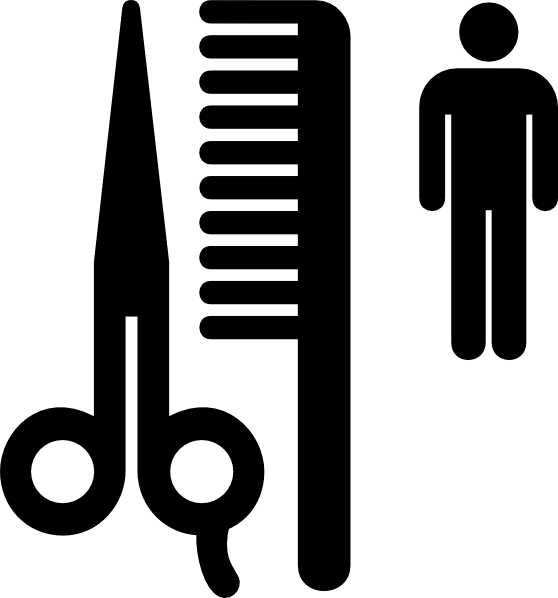 I am doing it again. Talking about myself. Sorry, but I should share with you the experience of finding a good hair cut in Moscow as I will prove language is not always necessary.
I have spoken about this before when I first arrived here. I made the mistake of going to a Salon where I was charged 2,000 rubles (43.00 GBP, 71.00 USD) for a hair cut. The system here is that when you go to a salon they offer you the 'Master'. When I was asked do I want the master I thought I was going to meet a Kung Fu specialist all dressed in white rather than a hairdresser. A master is the top hairdresser with a top price. I declined this kind offer and had my hair cut by what must have been the 'Junior' because when I left my hair looked almost the same as when I arrived but cleaner and shampooed. After this experience, I was determined to find men's hairdressers where I would have a mans hair cut at a normal man price. Not as easy as it sounds in a place like Moscow.
Not speaking the language in a foreign country can be an issue if you let it be one. It could be an issue if you had a problem with your car and could not explain to the non English speaking man at the garage what was wrong with your car. It could be an issue at the non English speaking dentists. You could have a tooth taken out by the dentist or a new engine fitted by a dishonest non English speaking mechanic, if you were unlucky enough to fall on such a people. I try to avoid these scenarios by using pictures. Allow me to explain in a moment. Bad communication could result in all your hair being shaved off so be careful.
After a lot of looking, I found a men's hairdressers that is about a twenty minute walk from my flat. I go there with my kid. When we arrive, I bump him down the many steps in his pram (stroller) to the salon. You would not know about this salon if you did not have a Russian friend to tell you about it and it's also hard to find like many places in this city. It is just a white door, on the side of an ordinary looking block of flats. The first time I went there it took me over an hour to find it. I am always the only man in there with a kid in a pushchair. This is not really surprising, as its not so usual to see men with kids in pushchairs, or men in hairdressers with kids in Moscow.
I usually see the same man each time I go. When I arrive, there are often about four of five on them all sitting on chairs looking bored, waiting for their next clients, so getting a hair cut is fast. My man is fat with a light fragrance of body sweat by Gucci and stale breath by Shashlik. I can tolerate it as he is fast and the price is cheap at just 250 rubles (5.50 GBP, 9.00 USD). I don't get offered an espresso coffee, I am not offered a classy men's magazine to read like '
GQ
' and there is zero small talk about the weather or the football between myself and the hairdresser. This is a blessing as far as I am concerned, as I always hate hairdressers small talk. In this situation I can just shut up and can be unfriendly without the guilt. Perfect.
'You don't speak Russian' some may cry 'but you are missing out on so much culture' I say 'bullshit'. I am too lazy, too stupid and dyslexic to learn Russian. I don't want to learn Russian, I certainly won't be making Russia my permanent home. I get by with my language laziness by using my hands (miming) or by using photos. Before I go the hairdressers, I look on Google under 'images' and type in an actors name or a hair style, find some photos and print them out. Then I select a few examples, print them onto one sheet of paper, put the paper into a plastic paper holder and put them in my back pocket to take to the hairdressers. I chose a photo of 'Tom Cruise' and some others, as I wanted a short hair cut. I usually have my hair short and maintenance free e.g just 'dunk, gel and go' (dip head into sink, gel and leave).
On my visit last week, I took a photo of Tom Cruise and other celebs. I just pointed to the photo of Tom Cruise, showed the scissor action and said 'shampoo' an internationally known word and I am understood by my sweat man. I keep my kid near me in his chair and feed him regular biscuits while my hair is being cut to keep him quite, it does not always work so a fast hair cut is vital. I think they are used to seeing me in there now as I go every two months or so for my regular hair cut. I don't look anything like Tom but my hair is short. Job done. I am keeping the location a secret.
Some wealthy expats pay thousands of rubles for a hair cut and have a nail manicure, well I am not such a guy and would never do that out of principle. I don't think I am mean, just careful. You decide.
Note: If you speak another langauge apart from your own, learning Russia will be easier. If you make efforts to learn Russian it will be appreciated by Russians. I however, do not think it is vital to learn the language unless you plan on making Moscow your home long term. Learning a langauge is an individual choice.
© All Rights Reserved.