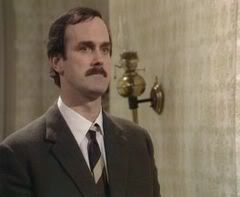 I have lived abroad, outside my country for over 6 years now. My country is England. The once powerful Island that was respected internationally and a country that set standards for other countries the world over. Alas no more, she died in about 1985. Why 1985, well this seems to me the main shift in time then it all went belly up. However, why is it when you live abroad you compare things to your own country, things like, costs, driving, the weather, women, men, eating, attitude, customs and traditions. You say thing like, "this curry does not taste like at home" (home being England and not India), "Why don't they Que properly", etc. You remember your country and countrymen in it's ideal, rather than its cold reality.
When I am annoyed with another person that is foreign to me and not British, my accent becomes very posh and I sound like an affronted rude hotel manager from a 1970's British TV sitcom "Fawlty Towers". Why is this? I become like

Basil Fawlty

. I become very rude and aggressive. I am not normally like that. "I say do you know I'm British, take your hands off me sir"."Don't mention the war". If you are not British, and read this blog, you may not really know what I am talking about and may think I have lost my marbles. I forgive you dear reader.
When I am abroad, I miss things that I would never usually think about, eat or have. I miss fish and chips, (I never eat fish & chips except if I am very drunk and hungry) Pork pies (from a motorway service station), custard, roast beef, jelly, civilized queuing, the post office, take away curry, playing the lottery etc. My memory and image goes back 25 or 30 years to when people behaved differently in the UK to how they do now. I remember the sound of grass being cut at weekends, in my street in middle class suburban England, seeing the milkman deliver the milk to house door steps, to long gone days. I am not so old, but I feel like it.
My memory of England, is in a an endless time warp, my memory is in an English ideal, that I miss and fantasize about. When I am abroad, I feel like a foreigner, when I am back "home" in England, I also feel like a foreigner. I am a foreigner, a snail with his home on his back, a nomad, a traveller of no fixed abode. I am Basil Fawlty with an attitude and a rucksack on my back.
© All Rights Reserved.